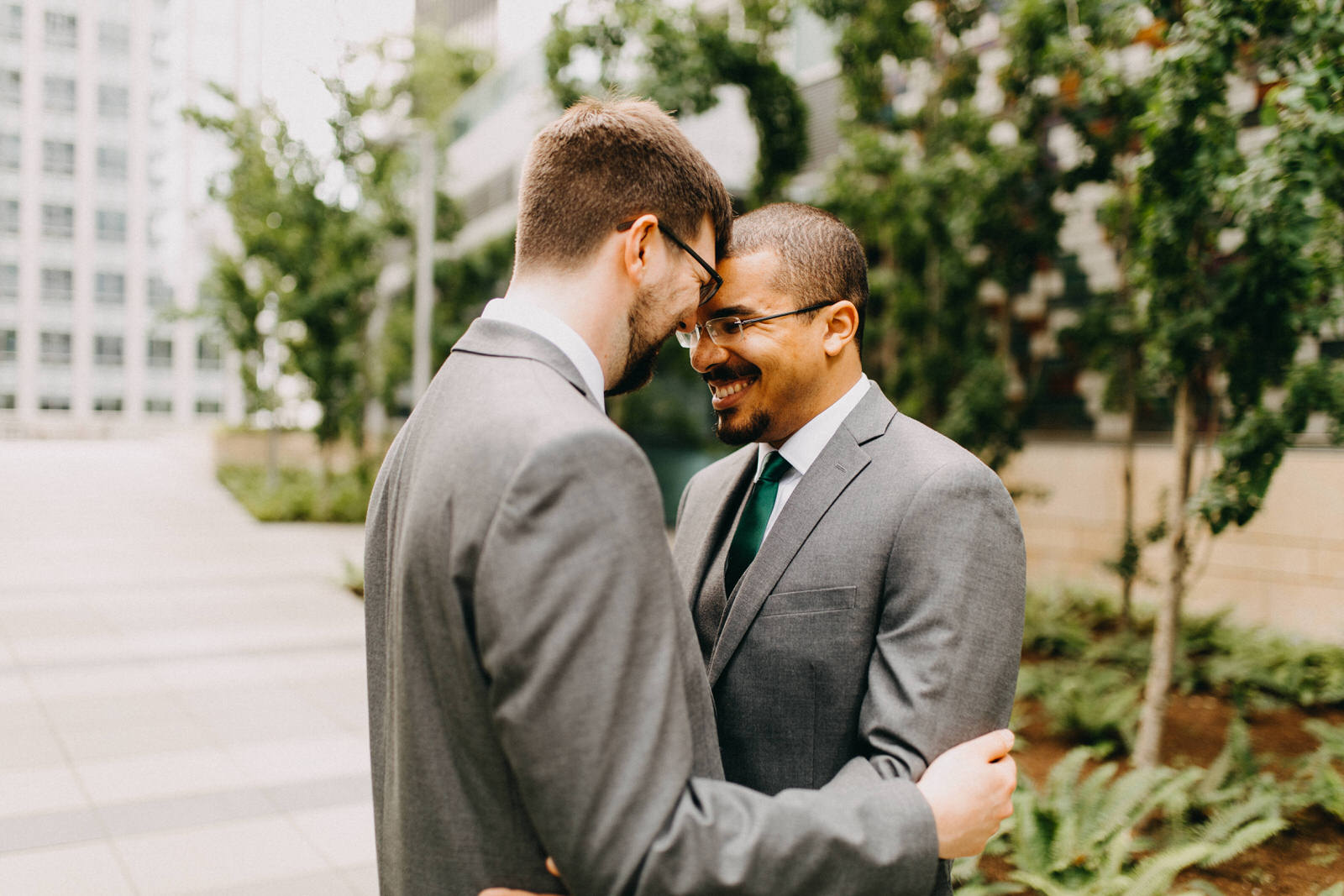 Columbia Tower Club Wedding
For those not in the know, Columbia Tower is Seattle's tallest building. 75 stories tall it towers over the surrounding buildings and offers a 360 degree view of Seattle from an unparalleled viewpoint. The top two floors are reserved for the Columbia Tower club which Patrick & Marc used as the venue for their beautiful wedding.
Upon arriving at the tower (and trying not to have a panic attack while parking 5 floors under a 75 floor building) I met up with Patrick & Marc who looked very dapper in their matching suits. Matching that is except for their signature colors, Patrick in navy and Marc in emerald.
While we waited for the last of the wedding party to arrive, I grabbed their rings and did some ring shots. The club had a ton of awesome little spots that made for great and varied backdrops so I may have gone a little click happy but oh well, pretty rings deserve pretty photos right?
Once the wedding party was assembled (thanks Seattle traffic) we headed outside to do the family and wedding party photos before I grabbed the two grooms and sent everyone away back inside. We headed a couple blocks over to a cute little rooftop I found the day before. With the weird looking SAM building as the backdrop we did some couples portraits before heading back to tuck them away for the ceremony.
The ceremony was officiated by friend Alan who was doing officiating duties for the first ever time! He did a great job, Patrick and Marc wrote their own vows so of course there were tears all round. With a couple I do's, some rings on fingers and that all important kiss, husbands they became!
The ceremony led straight into a cocktail hour with hors d'ouvres served as guests mingled. Patrick and Marc spent the time saying hello to all their guests and the smiles never left their faces the entire time. It's always nice to see a couple who are genuinely happy to have each and every guest at their wedding because they are important to them.
Just as tummies started to rumble, dinner was served! In house catering provided a delicious buffet for the assembled guests and it went down a treat. I spotted more than one person going back for a second helping, and truth be told I almost joined them!
Once dinner had settled, all eyes turned to the cake and quite right because that thing was beautiful. Assembled by local baker Honey Crumb Cake Studio the cake was earl grey with bergamot syrup and lavender buttercream and it was D-E-LICIOUS. I had to have two slices to photograph it correctly....that's my story and I'm sticking to it! Alongside the cake were some delicious mini-desserts that I also had to photograph and then mysteriously disappeared...
As guests dived into their desserts I grabbed Patrick and Marc to do one last round of portraits and after some sunset pics in their suits they disappeared to change and reappeared in traditional West African garb that was AMAZING.
We headed outside to the patio and got some great city shots with my favorite Seattle building The Smith Tower in the background. When we headed back inside I bid Patrick & Marc a good night and left them to party the night away with the nearest and dearest...
Vendors
Photography: Jamie Buckley Photography
Venue: Columbia Tower
Day Of Coordinator Jake Taylor, Functions and Gatherings
Catering: In House
Cake Design: Honey Crumb Studio