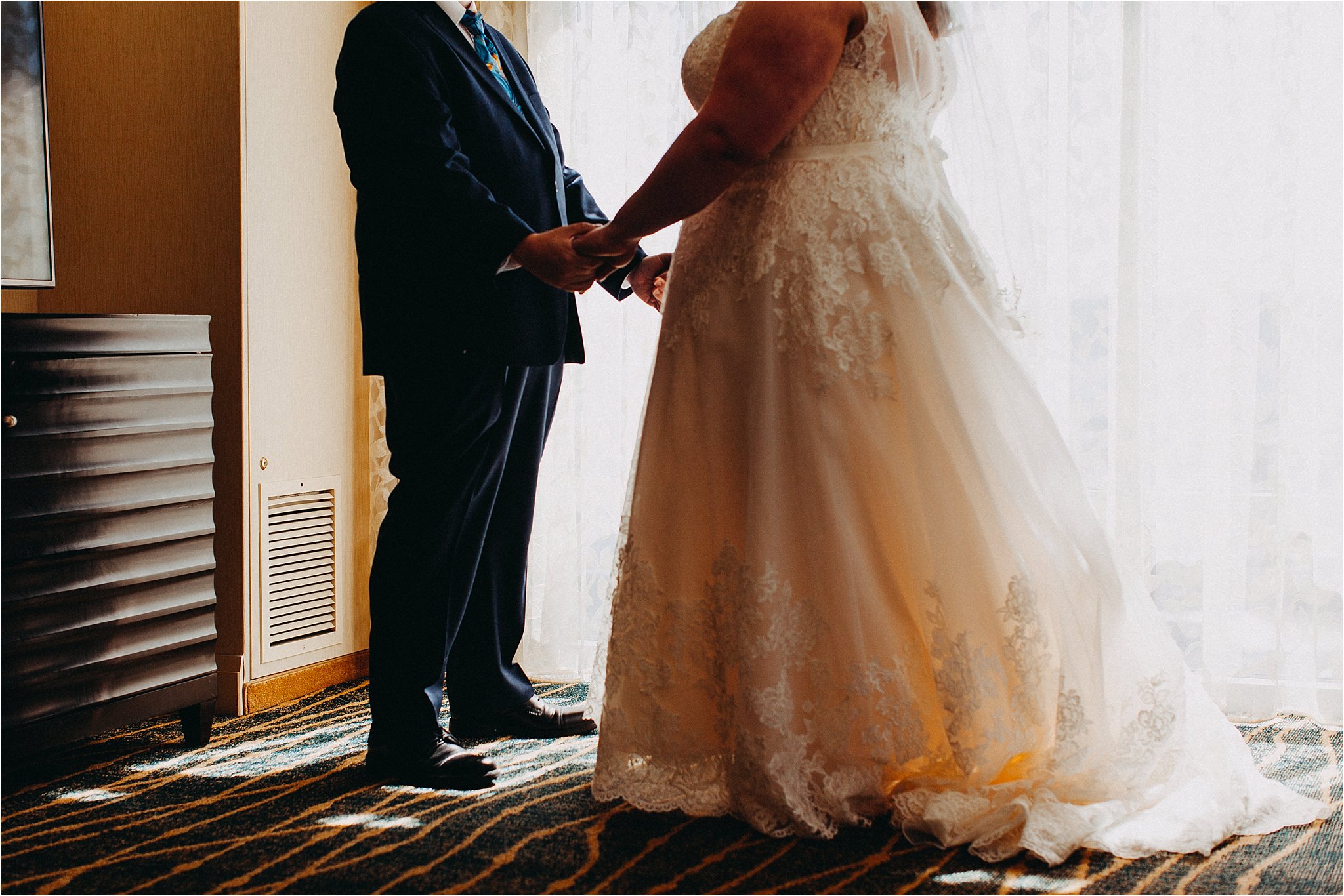 Pepper and Keith's wedding day started with them getting ready at the Marriott Waterfront. Situated in rooms a level apart (great for my daily stair climb!) they both got ready with their parties and then Pepper headed over to Keiths room for their first look.
Looking stunning in her David's Bridal dress, Pepper blew Keith away when he turned around and saw her for the first time. Although to be fair, he was looking pretty sharp in his suit with fishy accents like his water swirl tie and shark socks!
Once they had said their hello's and had a quiet moment with each other, we headed down the waterfront to the Seattle Aquarium where their wedding ceremony would be taking place. For the wedding party photos we headed out onto the private deck with it's gorgeous views of West Seattle and the Olympic Peninsula off in the distance.
After the aquarium had closed to the public we headed indoors where thankfully it was a little cooler. While the party waited for the ceremony I took some detail shots of Pepper & Keiths rings. Peppers ring in particular because not only is It beautiful but it was her grandmothers so it has a lot of sentimental value.
Then it was ceremony time and what a room for a wedding ceremony! A backdrop that is a giant wall of a fish tank with many species of fish floating around watching as you say your I Do's, what could be more amazing? Oh that's right, Pepper & Keith's beautiful ceremony and vows that had everyone claiming their allergies were acting up.
From the ceremony we did some extended family photos in front of said giant fish tank wall before everyone headed into the aquarium proper for cocktail hour. Now I'm usually a fan of cocktail hour, it has delicious drinks and everyone is happy because the ceremony is done and wham, bam, thank you ma'am they're married. WELL. Pepper & Keith's cocktail hour took it up a notch by featuring an otter feeding! Honestly it was only like the cutest thing I've ever seen in my life. If you can get to the Seattle Aquarium at a time they're doing it, you should absolutely go and watch.
While everyone was distracted by the otter feeding, I grabbed Pepper & Keith and took them outside to get some newly married smell photos on the dock as the sun went down. The way these two look at each other is just amazing, they have such a deep love for each other. Although Pepper did roll her eyes once or twice at Keith's jokes.
Once the otters were fed, it was time for the humans to be fed! The catering was in house from the Seattle Aquarium and looked and smelled delicious. During dinner toasts were given by the Maid of Honors and the Best Men, yes there were two of each! Once toasts were given it was time to cut the cake, and what a cake it was!
Keeping to the aquatic theme, local baker Elizabeth Hunt created something straight out of the Little Mermaid, but with three otters representing the couple and their beautiful baby girl Maggie. It also tasted as good as it looked. Yes I verified for professional reasons.
After the cut cutting I grabbed Pepper & Keith and now costumed changed into a Narwhal(!) baby Maggie and took them out on the deck for some final photos with the Seattle Wheel. A perfect end to a perfect wedding day. Thank you Pepper & Keith for allowing me to capture it!
Photography: Jamie Buckley Photography
Venue: Seattle Aquarium
Hair & Makeup: Seattle Blossom & Beauty
Dress: David's Bridal
Cakemaker: Elizabeth Hunt
Florist: Hedlin Farms
Caterer: Seattle Aquarium